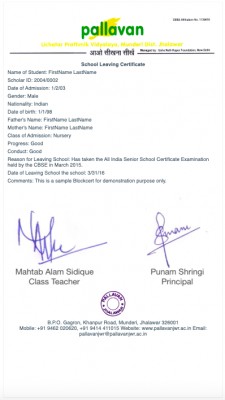 Class XII Students at Pallavan School, Jhalawar, Rajasthan and Vasant Valley School, New Delhi, First to Receive Blockcerts Credentials in India
NEW DELHI, India, January 13, 2020 (Newswire.com) - ​​In collaboration with Learning Machine, the Pallavan School (Jhalawar, Rajhastan) and Vasant Valley School (New Delhi, Delhi) became the first K-12 institutions in India to issue Blockcerts to their students in 2019. The pilot program was led by Pallavan Learning Systems (PLS), an international educational research organization developing a novel curriculum that emphasizes Five Areas of Development for students: Cerebral, Emotional, Physical, Social, and Spiritual.
View and verify example Blockcerts:
2)
Mock School Leaving Certificate
(shared with permission from Pallavan School Jhalawar)
The pilot program issued multiple types of credentials: Leaving Certificates, Language Certificates, Character Certificates, Letters of Recommendation, and Five Areas of Development Mark Sheets. The issuance of required credentials using the Blockcerts' open standard enables their secure use and re-use in a verifiable digital format that is blockchain-anchored and recipient-owned. Blockcerts overcome many challenges of paper credentials that are susceptible to fraud; credentials can now easily be shared with and verified by third parties.
Pallavan Learning Systems selected these two schools to participate in the proof-of-concept pilot program in order to demonstrate that students in both rural and metropolitan areas can benefit from receiving credentials in Blockcerts format. According to the Internet and Mobile Association of India, India's internet adoption has reached 451 million people, and mobile adoption is increasingly being driven by rural areas. These trends indicate that students across India stand to benefit from the successful demonstration of the Blockcerts pilot program. As the program moves forward, additional schools and types of credentials will be issued.
Arun Kapur founded Pallavan Learning Systems in 2001. He now serves as Director for Pallavan Learning Systems, Vasant Valley School, Ritinjali, and The Royal Academy in Bhutan. Arun highlighted the significance of the pilot program and its benefits: "One of the core aspects of a (w)holistic education is learners taking ownership of their learning. We do this by inviting learners to be co-creators in designing their educational journey. In issuing them their first Blockcert digital credentials, we have taken this further to ensure that learners have complete ownership over the credentials they have earned."
Kausar N, Samli, Ph.D., SVP Global Services at Learning Machine, added: "Blockcerts enable an information economy model of credentialing that is increasingly required in today's global, digital-first world. Pallavan School and Vasant Valley School are now leading the establishment of Blockcerts as recipient-owned, secure digital credentials that enable mobility for students in India, especially as they seek subsequent educational and employment opportunities both in India and abroad."
For further information, please contact:
Pallavan Learning Systems: Arun Kapur arunkapur@plspvt.com / Hemant Somasekharan hemantsomasekharan@plspvt.com
Learning Machine: Kausar N. Samli, Ph.D. / ksamli@learningmachine.com
Source: Learning Machine
Share: