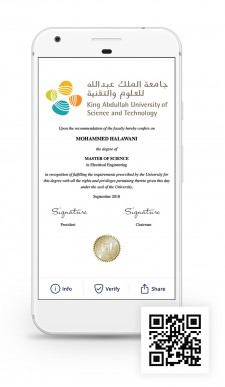 Digital diplomas will be issued to all KAUST students graduating in December 2018 using the Learning Machine Issuing System.
THUWAL, Saudi Arabia, November 19, 2018 (Newswire.com) - In a major step forward for the adoption of blockchain technology by educational institutions, King Abdullah University of Science and Technology (KAUST) and Learning Machine Technologies announced today that the University would become the first institution in the Middle East to issue Blockcerts, blockchain-anchored credentials. The move will position KAUST among pioneering Universities around the world, including MIT, the University of Melbourne, Central New Mexico Community College, and others.
Digital diplomas will be issued to all KAUST students graduating in December 2018 using the Learning Machine Issuing System. The diplomas will be anchored to the blockchain using Blockcerts, the global open standard for portable, secure, and digital records that can be verified as official for a lifetime without cost. Developed jointly by MIT Media Lab and Learning Machine, Blockcerts are now led by a global community of contributors.
Jason Roos, CIO of KAUST, explained the University's motivation for using Blockcerts: "It is imperative that we as a world-renowned science and technology university take a leadership position not only in the development of new and innovative technologies but also the adoption and deployment of emerging technologies that provide significant value to our students and alumni. We are excited to partner with Learning Machine to leverage the unmodifiable properties of blockchain while issuing digital diplomas, which will facilitate more secure and easier means of verification for our future graduates."
Mohammed Halawani, Manager of IT for Emerging Technology, Strategy & Performance Management, added: "It is an exciting opportunity for KAUST be the first university in the Middle East to adopt the Blockcert technology. This move will set the University at the forefront of the digital transformation happening in the Kingdom and will be a first step towards building a new digital assertion concept. We aim to define a futuristic strategic direction for KAUST using blockchain along other disruptive innovative and emerging technologies that align with KAUST vision and contributes to the realization of Vision 2030."  
Natalie Smolenski, Learning Machine SVP of Business Development, commented on the initiative: "We are excited to work with the KAUST Emerging Technology team to bring this project to life. Mohammed Halawani and his colleagues have shown true commitment to bringing the security, portability, and ownership benefits of Blockcerts to KAUST students, faculty, and staff. We sincerely look forward to our ongoing work together."
Kausar Samli, SVP of Global Services at Learning Machine, added: "It is a pleasure to inaugurate Learning Machine's expansion into the MENA region with KAUST. I have been deeply impressed by the institution's commitment to driving technological change. Learning Machine's work in the GCC is still in the beginning, as we expect the demand for secure blockchain-anchored credentials to grow significantly in the coming years."
The advantages of using Blockcerts include offering a faster, simpler, and more secure way to issue official records, validate documents and verify identities. This provides issuing institutions and recipients with lifelong ownership of their credentials without relying on a software vendor for ongoing access and verification.
The flexibility of Blockcerts means that documents can be anchored to any blockchain: public, private, or permissioned. Recipients receive, store, and share their digital diplomas via their Blockcerts Wallet, a free mobile app that acts as a private credentials portfolio accessible exclusively by the recipient. The recipient may choose to share their Blockcerts with any employer, government, or educational institution in the world, instantly and free, for immediate verification.
About Learning Machine Technologies, Inc.
Learning Machine provides Enterprise Credentialing Systems that issue verifiable credentials using the Blockcerts open standard. Blockcerts, developed by the MIT Media Lab and Learning Machine, is the world's only open standard for issuing recipient-owned credentials to any blockchain. Learning Machine's global customer base includes governments, companies, and school systems that need to issue verifiable, portable, and secure credentials at scale. To ensure the longevity and interoperability of these credentials, the company is an active contributor to international standards communities, including the W3C, Blockcerts, DIF, IMS Global, and Rebooting Web of Trust.
For the latest news from Learning Machine, visit https://www.learningmachine.com or follow @LearningMach1 on Twitter.
About King Abdullah University of Science and Technology (KAUST)
Established in 2009, King Abdullah University of Science and Technology (KAUST) is graduate research university devoted to finding solutions for some of the world's most pressing scientific and technological challenges in the areas of food, water, energy and the environment. With 19 research areas related to these themes and state-of-the art labs, KAUST has created a collaborative and interdisciplinary problem- solving environment, which has resulted in over 11,000 published papers to date.
With over 100 different nationalities living, working and studying on campus, KAUST has brought together the best minds and ideas from around the world with the goal of advancing science and technology through distinctive and collaborative research. We are a catalyst for innovation, economic development and social prosperity in Saudi Arabia and the world.
For additional information, visit: www.kaust.edu.sa
For further inquiries, please contact:
King Abdullah University of Science and Technology: Alexander Buxton / alexander.buxton@kaust.edu.sa ​
Learning Machine: Natalie Smolenski / nsmolenski@learningmachine.com
Source: Learning Machine
Share: