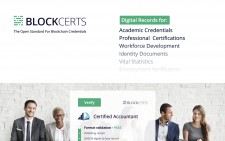 The round was led by PTB Ventures and included strategic investments from Omidyar Network and Learn Capital
NEW YORK, May 7, 2018 (Newswire.com) - Today, Learning Machine Technologies announced that it closed a $3 million seed round to expand its work as a leader in providing secure, recipient-owned and independently verifiable digital records. The round was led by PTB Ventures and included strategic investments from Omidyar Network and Learn Capital, strengthening both Learning Machine's heritage as a leading brand for traditional credentialing institutions and reinforcing the growing importance of digital identity solutions across sectors.
Learning Machine makes best-in-class software for organizations around the world looking to issue blockchain-based credentials ("Blockcerts") at scale. The Blockcerts open standard was developed by Learning Machine in partnership with the MIT Media Lab. The use of Learning Machine's software streamlines routine business operations, de-risks official credentialing practices and reduces both fraud and verification costs. Its trusted digital identity solutions also promise to improve access to services, education, capital and dignified employment.
Academic and professional credentials are arguably the most valuable social currencies we have. It's fitting that digitization of these credentials, this social currency, is one of the first consumer applications of blockchain. As labor markets and the workforce become increasingly global and mobile, tamper-proof, instantly verifiable credentials solve a real social problem. The economic gains from this solution accrue to human capital in a distributed, democratic fashion.

Dave Fields, PTB Ventures
Blockcerts have several key features, including that they can be issued to any public or private blockchain and are globally interoperable because they require no proprietary software to view or verify. The Blockcerts standard is open source, allowing for full security audits and is a community extension hosted by international standards body IMS Global. Its development continues in the context of ongoing research into Decentralized Identifiers and Verifiable Credentials by the W3C Credentials Community Group, an expert group co-chaired by Learning Machine CTO Kim Duffy.
"Learning Machine counts governments, multinational corporations and leading educational institutions as customers of its enterprise issuing system," explained Learning Machine CEO Chris Jagers. "The platform makes issuing Blockcerts seamless for institutions while providing them with a bird's-eye view of their credentialing operation, including detailed, actionable analytics for policymaking, workforce development and alumni relations."
Dave Fields, the round's lead investor and founding partner of PTB Ventures, expressed the following rationale for investing in Learning Machine: "Academic and professional credentials are arguably the most valuable social currencies we have. It's fitting that digitization of these credentials, this social currency, is one of the first consumer applications of blockchain. As labor markets and the workforce become increasingly global and mobile, tamper-proof, instantly verifiable credentials solve a real social problem. The economic gains from this solution accrue to human capital in a distributed, democratic fashion."
Natalie Smolenski, Learning Machine VP of business development, added: "Regardless of socioeconomic situation, workers must become lifelong learners who regularly retool their skills throughout their careers as they navigate multiple geographical, institutional and technological jurisdictions. The need for translatable, interoperable and easily verifiable digital credentials could not be more pressing for economic growth and development. The blockchain has arisen as an infrastructure that helps meet this need."
"Blockchain has been the recipient of an extraordinary amount of hype, and many organizations have proposed concepts for bringing blockchain ideas to education," said Rob Hutter, the founder and managing partner at Learn Capital. "Learning Machine, uniquely, has led a highly credible industry-wide effort to drive a blockchain standard in credentials and is executing well ahead of the field in one of the most salient applications of the paradigm to the learning arena. We're thrilled to be involved with Chris, Dan and the entire Learning Machine team as they scale up their company to respond to escalating demand for their technology."
CV Madhukar, global digital identity lead at Omidyar Network, added, "With new standards of open, digital credentials, Learning Machine is transforming the user experience for organizations managing credentials, while at the same time empowering individuals to own and control this important aspect of their digital identity."
Learning Machine President and COO Dr. Daniel Hughes summarizes it well: "As social infrastructure, a self-sovereign digital identity drives innovation and social good across skills mobility, property rights, data protection, education and employment. Learning Machine has made these outcomes practical for governments, universities and corporations. We are excited to be working alongside so many world-changing organizations and now also with these exceptional capital partners."
About Learning Machine
Learning Machine Technologies is an enterprise software firm specializing in self-sovereign digital identity through directly owned, verifiable official records. http://www.learningmachine.com
About the Investors
PTB Ventures is a thesis-driven venture capital firm investing in early-stage companies in the emerging digital identity ecosystem. Digital identity is the cornerstone of a transformation that will see trillions of networked devices connected to billions of humans. This transformation will create unprecedented economic expansion and a new level of security and access for billions of people. PTB is headquartered in New York City. http://www.ptbvc.com
Omidyar Network is a philanthropic investment firm dedicated to harnessing the power of markets to create opportunity for people to improve their lives. Established in 2004 by eBay founder Pierre Omidyar and his wife Pam, the organization invests in and helps scale innovative organizations to catalyze economic and social change. Omidyar Network has committed more than $1 billion to for-profit companies and nonprofit organizations that foster economic advancement and encourage individual participation across multiple initiatives, including Digital Identity, Education, Emerging Tech, Financial Inclusion, Governance & Citizen Engagement and Property Rights. http://www.omidyar.com
Learn Capital is one of the world's largest venture capital firms concentrating exclusively on the global education technology sector. Its affiliate seed fund LearnStart is creating the largest, most detailed pipeline of global education technology startups. Based in Silicon Valley, Learn Capital and LearnStart invest in innovative learning content, platforms and services engaged in the global transformation of educational engagement, access and effectiveness in formalized schooling, corporate and consumer settings. http://www.learncapital.com
Media Contact
Email: press@learningmachine.com
Source: Learning Machine
Share: