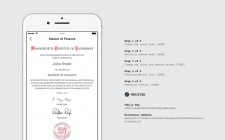 MIT joins a thriving community of global institutions issuing and verifying official records using the Blockcerts open standard.
CAMBRIDGE, Mass., October 23, 2017 (Newswire.com) - The Massachusetts Institute of Technology has issued learner-owned academic credentials on the blockchain. The University's Digital Diploma Pilot Program allowed a select cohort of students to receive both a paper diploma and a digital diploma anchored to the blockchain. Digital diplomas are encoded using the open-source Blockcerts standard, which was developed by Learning Machine Technologies and the MIT Media Lab.
Speaking to MIT News, Registrar and Senior Associate Mary Callahan said, "From the beginning, one of our primary motivations has been to empower students to be the curators of their own credentials. This pilot makes it possible for them to have ownership of their records and be able to share them in a secure way, with whomever they choose."
Blockcerts was published under the MIT open source license in 2016, leading to its adoption around the world by companies, governments, and researchers seeking to build their own applications for issuing and verifying documents on the blockchain. It was released prior to any commercial applications in order to avoid a standards war and vendor lock-in, problems common during the early stages of adopting any fundamentally new technology.
Universities around the world have been experimenting with issuing credentials to the blockchain for several years. However, Blockcerts is currently the only blockchain records format that is based on open standards and which allows recipients to own their blockchain certificates directly rather than depending upon a vendor or issuing institution to act as a custodian. Direct ownership of official digital records is made possible by the Blockcerts Wallet, a free mobile app for iOS and Android that manages an individual's blockchain addresses in the background so that they can take advantage of an easy-to-use, private portfolio of achievements and personal data.
MIT noticed that the students most eager to take advantage of the digital diplomas pilot were international students who needed highly secure proof of their graduation from MIT in their countries of origin. Along these lines, Vice Chancellor Ian Waitz stated that portable credentials are "exciting, and necessary, to keep up with the demands of our on-campus students and learners around the world."
Callahan added, "We've just begun to scratch the surface of where this will lead."
For further information, please contact:
Learning Machine: Natalie Smolenski / nsmolenski@learningmachine.com
MIT: Michael Rutter / mprutter@mit.edu
Source: Learning Machine
Share: